Every day in Airbus is a whole new experience, the aerospace industry is exciting with business opportunities to capture. Airbus strives to emphasize the meaningfulness of the work that we do and provides a positive and congenial work climate for the well-being of all its employees
Since a young age, Clara has always been fascinated by airplanes and while pursuing her Bachelor Degree in Indonesia, she had the opportunity to complete her Double Degree and Masters studies in The Netherlands with the University of Groningen. "Airbus is very well-known in Europe and it has been my dream to join this European giant in Aerospace" - says Clara.
In 2018, Clara's dream came true. She joined Airbus Helicopters Indonesia as a Finance Officer responsible for developing cash flow forecast and monitoring the financial health of the company. As part of her development, she was entrusted to be the main focal point between Airbus and the Finance Departments of Airbus Governmental and Civil customers in Indonesia to optimize and manage business and revenue performance. In this role, she had the opportunity to work closely with different functions within Airbus and gained exposure in liaising with many aerospace customers in Indonesia. In 2019, she was appointed as the Country Manager for Airbus Helicopters Indonesia's Enterprise Risk Management (ERM) to produce in-depth analysis and action plans to mitigate potential risks and objectify business opportunities. In her current role, she continues to be the focal point between Airbus Finance and our customers, responsible for bank-related matters and providing strategic inputs for the Regional Finance team on customer receivable collections in Indonesia.
Clara has had many memorable experiences, one of which was the humanitarian aid provided to Indonesia devastating earthquake in 2018 that hit Palu, a city on the island of Sulawesi. The Palu earthquake was the world's costliest earthquake in terms of human life that year. The earthquake triggered a localized tsunami and landslides that seriously damaged the roads including the Airport buildings and runway, thus the fastest way to do distribute aid was via air cargo / airlift.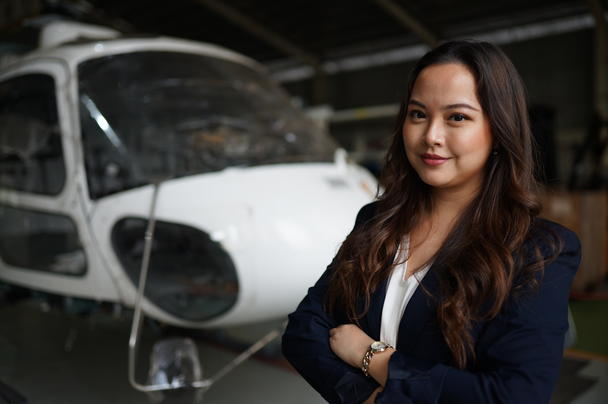 "It was a mixed contribution together with the Airbus Foundation, The Royal Malaysian Air Force and local Government, supported by Airbus Indonesia. Many employees in the company were involved in supporting this mission especially in providing ground handling support, while our Finance team worked closely with all these entities, responsible specifically for costs analysis and allocation of funds in order to make the mission executable as quickly as possible. Airbus managed to deploy A400M Aircraft operated by The Royal Malaysian Air Force for the distribution of excavator and emergency supplies to the entire impacted areas coordinated by the local governmental. In such times, it was all about saving lives and providing the right support at the right time. I could really feel Airbus value of liability and crisis management effort in order to save lives, how important my job was and how I am able to help".
"Diversity and inclusion is felt throughout the company"- continues Clara. During her course of work, she had the opportunity to work with colleagues globally and loves how welcoming everyone is. "People here are diverse, we work together as a team regardless of your nationality, age, gender, or the language you speak. Diversity and inclusion is felt throughout the company". She is happy to have found colleagues within Airbus whom she could work and get along well in and out of work.
"I believe you need to take good care of your physical and mental health in order to perform better at work". Clara is a nature lover who loves to have a good swim during her free time and head to the beach during holidays. She also finds joy reading a novel over a good cup of coffee and her all-time favorite author is Paulo Coelho. Lastly, being in a city filled with good food, Clara finds it exciting to try new local eateries as part of supporting F&B Innovation as well as the local economy. "These activities give me the good vibes to start off a new week".
---

Clara's career path at Airbus
 
Treasury Specialist Enterprise Risk Management
Airbus Helicopters, Indonesia
 
Finance Officer
Airbus Helicopters, Indonesia
---